WE ARE THE ONLY FITNESS FACILITY THAT BELIEVES IN OUR PROCESS SO MUCH THAT WE PAY FOR YOUR TRANSFORMATION
Here's how it works:
You lose a bunch of weight and look amazing in 5 weeks and your transformation is on us! Like Justin Timberlake says…. " bringing YOUR sexy back" in 5 weeks.
We want you to succeed, because if you succeed, we succeed.
We get to use to your amazing transformation pictures and you get your results for FREE! That's what we call a win-win. We will use all the resources available to ensure your success as long as you kick butt and do the work.
The sessions are short, fast-paced, and fun.
It will take you less time to get your booty in shape than watching your favorite TV show.
We've seen our program work time after time.
We know our system works.
In fact, we have seen it work so well that if you are not successful with our methods, then we know its not on us, its on YOU!
What FitCampLA Members Say About Our Program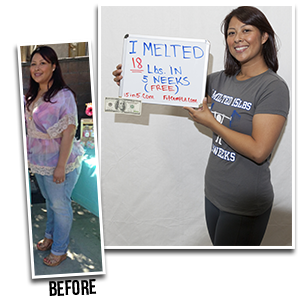 I did the 15in5 challenge and I melted not only 15lbs but 18lbs and lost 2% body fat in just 5 weeks! if I can do it so can you!
There was no magic pill, no special powder, it was all done by following the game plan (a balance of meals and working out). When I first heard about this challenge I knew right away I wanted to do it, I wanted to do this for myself. I right away signed up and attended the seminar where I was given a meal plan, guidance, and lots of motivation from the great coaches.
The workout sessions at FitCampLA are great, not only are you working out and kicking ass but you always have a good time, the environment is awesome and the endless motivation is amazing,the coaches are there to guide you, so you will never feel alone in this.
Now that I'm 18lbs lighter I feel so much better about myself, I feel so much happier and my energy level is higher. Joining FitCampLA and accepting this 15in5 challenge showed me that nothing is impossible, this has been the best decision I ever mad, FitCampLA has definitely changed my life.
I recommend FitCampLA and the 15in5 challenge to anyone who wants to take the step and make the change and wants to see awesome results, by just sticking to the plan you can accomplish 15 and more!
Nelly Morroquin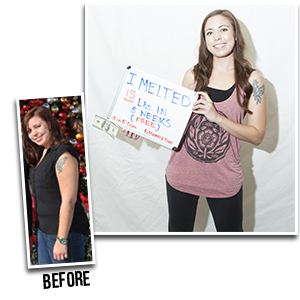 Everything about FitCampLA blows all competition out of the water! The coach's support and energy brings out the best in you. I had a gym membership I hardly used, went to spin classes & tried countless home fitness videos but could never find the motivation to stick with it.
After hearing about FitCampLA, I thought 'Well I've tried everything else, why not?' 33 pounds later, let me just say, I'm glad I did! They're not lying when they say 'We change lives!', they have completely changed mine! Thank you FitCampLA for showing all of us how to GSD!
Karissa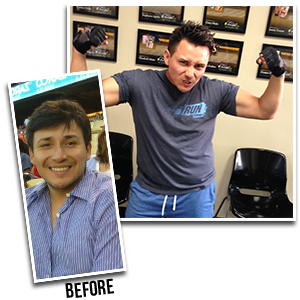 I don't know that I ever understood what I really wanted out of a fitness program until now. Over the last year, FitCampLA has kicked my ass and has taken me outside of my comfort zone which has helped me not only physically, but also mentally. The workouts are incredibly challenging and really allow you to push yourself to a new level.
The coaches are GREAT, the support and motivation they provide is PHENOMENAL!  Any other fitness establishment would come up short.
I have always struggled with my weight but in the past few years, I have watched the numbers on the scale either not changing or going up. Even though I remained consistent in my workouts, I was not getting the results I wanted. Naturally, no one wants to admit that their diet may not be as healthy as they think, nor do we want to admit that those "happy hour" drinks really creep up on you.
I decided to attend a nutritional seminar where the coaches explained the "15in5" challenge: lose 15lbs in 5 weeks, all for free. Without hesitation, I signed up and started the journey the very next day. The game plan was easy to follow. The meals were fulfilling and the various foods satisfied my cravings for junk food. The encouragement and assistance I received from the coaches really helped me stay focused and on-track.
At the end of the challenge, I had lost a total of 19 pounds and dropped two pant sizes.
Now, I feel great, I have a lot more energy, and I can see that my love handles are going down! My partner, friends and other FitCampLA members played a huge role in my transformation. I would have to say that the hardest part of this challenge was committing to change and saying "no" to my mother-in-law's tamales.
When you value yourself and feel inspired and confident, eating well and exercising will become a pleasurable part of life. Our relationship with food and our body is a reflection of our relationship with life. We have to look at the whole picture if we really want to create lasting, sustainable change.
George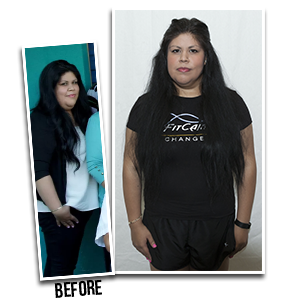 Saying FitCampLA changed my life is an understatement. FitcampLA has not only made me a more stronger and healthier version of myself but it has taught me discipline and persistence and how to achieve success in all aspects of my life.
It has taken the words "I can't" out of my vocabulary and turned them into "I can". Through sweat, tears, sore muscles and laughter, Fitcampla has changed my life.
Perla
During the past couple of years, I gained lots of weight. I consider myself a smart woman, but I am definitely not prefect because I did not prioritize the important things in my life. During the last couple of years, I saw my body getting bigger. Unfortunately, I did not have the incentive or the knowledge to stop my unhealthy lifestyle.
I joined a mainstream gym a while back and just went for two months. To be hones, I felt lost because I had no idea of what to do or how to use the equipment. Three months ago, I decided to make a significant change in my life.
I joined FitCampLA.
Many of you may think it is pricey, but I can tell you that my life and my health became more important than any material things. FitCampLA has a family-like environment. People from all ages attend. They all have the same positive and healthy goals. They all are supportive and friendly and, best of all, we have unlimited support from our coaches/role model/great friends.
I finally saw the light at the end of the tunnel. I feel happy to see that in approximately 3 months, I have dropped 20+ pounds. I can definitely say that working out in a group setting, with discipline and with the appropriate professional help, it is possible to accomplish any goals of being fit. I consider that my goals are still a work-in-progress, but I definitely know that I am in the right place with the right people to accomplish my goals.
Maria Muñoz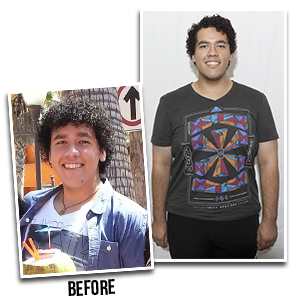 I joined the 15in5 challenge when John told me they had a set up plan that would help challengers drop some weight quickly and effectively. Losing 15 pounds in 5 weeks sounded way too good to be true. They're tough, but they are extremely supportive and want all the FitCampers to see results.
Even if losing 15 pounds in 5 weeks was intimidating, I knew that the FitCampLA trainers would make sure that I completed the challenge. At the end of the challenge, I saw major results on my waistline (4 inches off) and fat had dropped off everywhere.
My confidence went through the roof when I realized I had actually dropped 20 pounds. I had so much more energy and with all of my muscles being more toned, exercising became more fun.
Before the challenge, running was something I needed to do to get fit. After the challenge, running became something I wanted to do! I didn't feel like I was dragging myself to FitCampLA anymore.
I feel so much more comfortable with myself and none of that would have been possible without the help of FitCampLA or the fantastic trainers. Challenge yourself. Take on the 15in5 challenge and see results. Most importantly, you will get out of the challenge what you put in. Give it your all and you won't regret it!
Arturo Muñoz