There are dozens of reasons why you should be shopping at farmers markets instead of grocery stores. The produce is much cheaper and fresher than what you'd find in a supermarket, and you're helping to support the local growers in your area, which is always a good idea (not to mention that your selection of organic produce is a lot larger in a farmers market).
Farmers markets are also a fun place to take the family on weekends. Luckily, some of the country's best farmers markets are found right here. Check out our list of the best farmers markets to visit in LA:
Farmers Market
Monday – Friday: 9:00 am – 9:00 pm
Saturdays: 9:00 am – 8:00 pm
Sundays: 10:00 am – 7:00 pm
6333 W 3rd St Los Angeles, CA 90036 (Get Directions)
LA's historic "Original Farmers Market" first opened in 1934 and has been a staple in the shopping habits of locals ever since. Featuring lots of different prepared food vendors and restaurants along with some of the best fresh produce vendors LA has to offer, the Farmers Market should be on the top of your list for not only shopping, but for eating and trying new foods.
Santa Monica Farmers Market
Wednesdays: 8:30 am – 1:30 pm
Arizona Ave & 2nd St Santa Monica, CA 90401 (Get Directions)
The Wednesday Santa Monica Farmers Market is known for being a favorite among LA's top restaurant chefs because of its large list of organic vendors and high quality produce. Popular vendors include Mike's Eggs (locals say it's worth waiting in line for), Harry's Berries (get there early- they run out quick), Tutti Frutti Farms (known for their garlic).
Larchmont Farmers Market
Sundays: 10:00 am – 2:00 pm
542 1/2 N Larchmont Blvd., Los Angeles, CA 90004 (Get Directions)
Larchmont Farmers Market is the perfect market with a great variety of different vendors for locals who don't want to make the trip all the way to Hollywood. It's a good spot to grab some fresh produce and sample recipes from the local vendors as well as shop around for other non-food items like flowers and apparel. Be sure to check out the organic bakeries!
Silver Lake Farmers Market
Tuesdays, 2:00 pm – 7:30 pm
Saturdays, 8:00 am – 1:00 pm
3700 Sunset Blvd., Los Angeles, CA 90189 (Get Directions)
Kid friendly Silver Lake Farmers Market is a fun way to spend a Saturday morning with the family. Being that it's a smaller market, locals find that growers are friendlier and eager to share recipes and ideas on how to serve the food that they're selling. You can expect to find great deals on nuts, oranges, and flowers here. Locals recommend trying the food at Dave's Gourmet Korean Food, Coffee Cellar, and Gastropubs.
Hollywood Farmers' Market
Sundays: 8:00 am – 1:00 pm
1600 Ivar Ave., Los Angeles, CA 90028 (Get Directions)
Founded in 1991, this Hollywood Farmers' Market is one of the more popular markets in all of Southern California. There are over 160 growers, farmers, and producers (most are certified organic), but it's best known for its wide variety of prepared foods and incredible samples. This market features kid friendly activities, lots of other non-food shopping, and even allows dogs from 10:00 am – 1:00pm.
When you go to a farmers market you can get a bit overwhelmed by the amount of food variety. Lucky for you we have compiled the top 10 foods to get at a farmers market and why you should get these foods their. Get your list down below 🙂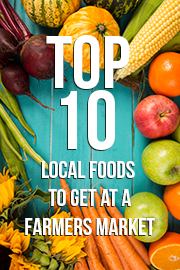 Top 10 Local Foods To Get At A Farmers Market