Have you ever heard the phrase, "Hard work pays off." ???
How about the saying, "It doesn't happen overnight." ???
Well they're both TRUE but as far as getting results overnight, well, it just doesn't happen like that… BUT! — 5 weeks isn't bad at all! No we didn't say 5 months. No we didn't say 5 years either. Yes, you heard right, only 5 WEEKS! Through our 15in5 challenge, participants are challenged to lose 15 lbs. (or more!) in 5 weeks… and do it all for FREE!
Proudly, during our last 15in5 challenge which ended just a couple weeks ago, we had numerous participants drop the weight and achieve amazing results and transformations. Talk about MOTIVATION! To give you a glimpse of what you can expect if you join FitCampLA, we'd like to share with you what one of our FitCamp Champs Mike S. had to say about the 15in5 challenge and his experience at FitCampLA.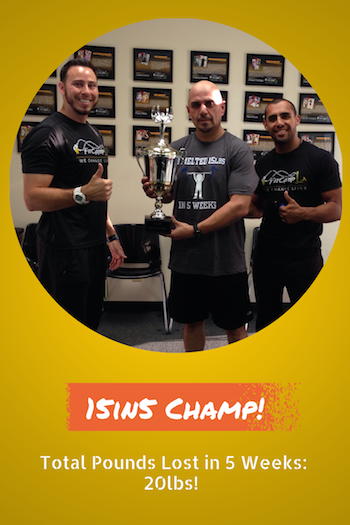 "When I first heard about the 15in5 challenge, I was immediately interested. I attended the seminar which provided detailed information on diet and the proper motivation to set your mind to it and succeed. I followed the game plan and stuck to it, while I also continued going to FitCampLA and getting my daily workout session. With the guidance and help I received from all the coaches, I was able to lose not only 15 lbs. but actually a total of 20lbs. in only 5 weeks! I was at a 19% body fat and dropped to a 16.1% body fat. With the nutrition plan they provided, I noticed myself leaner and stronger, and I found that I had ABS which I never thought I'd see again.  If I can do this and show the results I got, ANYONE CAN DO IT TOO! FitCampLA is the best thing that I've ever decided to do and I highly recommend it to anybody who is serious about getting in shape and living and maintaining a healthy lifestyle. Here at FitCampLA I feel like I'm part of a family and we all help each other out. Coaches are great and always keep you motivated.  I recommend FitCampLA to anyone who seriously wants real results and to "get sh** done!" – Mike S. (FitCamp Champ)
That's right, Mike dropped 20 lbs.  and dropped 3% bodyfat in only 5 weeks by sticking to the game plan and staying consistent with attending the FitCampLA workout sessions. Big congrats to Mike, we are so proud of him!
If there's anything to take from what Mike said, it's the part where he said if he can do it and get the results he achieved, ANYONE CAN DO IT TOO.
There are so many people out there who want to get in shape and achieve astounding transformations like our FitCampLA Champ Mike S. and many others have but they either think it's impossible or they simply don't know where to start.
You might even be one of those people. Well it's time for you to breathe a sigh of relief because the search is over. FitCampLA is THEE place to be to achieve amazing results like you never would've believed! With the proper guidance and accountability from the coaches, the support from fellow FitCamp Champs, and nutrition plans tailored to everyone's individual needs, you'll have the ultimate tried & true recipe for UNLIMITED MOTIVATION, SUCCESS and RESULTS! Your transformation awaits you.
Congratulate Mike, by leaving a comment below 🙂
Yours in health,
Coaches Jonathan & Eric