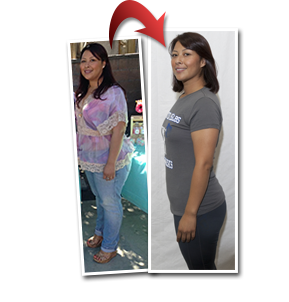 ***LOST 18 lbs. IN ONLY 5 WEEKS***
Ever seen those infomercials about magic pills and powders, Hollywood miracle juices, or other ridiculous gimmicks? Yeah, juuuuuuust ridiculous huh…
Ever actually met anyone who's achieved amazing life-changing results by from any of those gimmicks? No, neither have we.
At FitCampLA, there are no gimmicks or ridiculous claims — only REAL PEOPLE who achieve REAL RESULTS. (and not just a few… HUNDREDS!!!)
Take Super Champ Nelly M. who not only lost 18 lbs. in our 15in5 Transformation Challenge but has lost a total of 52 pounds total in her time as a FitCampLA Super Champ!
It may seem unbelievable to achieve such amazing results in such a short time but it is 100% REAL and TRUE and it's what YOU can expect to lose (or even more) if you join the Super Champs at FitCampLA. Here is what Nelly had to say about achieving such amazing and life-changing results with us…
"I did the 15 in 5 Transformation Challenge and not only melted 15 pounds but actually 18 pounds and lost 2% body fat in just five weeks! If I can do it, so can you! There was no magic pill, no special powder, it was all done by following the game plan (a balance of delicious and healthy custom planned meals and working out). When I first heard about this challenge, I knew right away I wanted to do it –– I wanted to do this for myself. I signed up right away and attended the orientation where I was given a meal plan, guidance and lots of motivation from the great coaches and fellow Super Champs who have also achieved amazing results at FitCampLA. The workout sessions are great –– not only are you working out and kicking ass but you always have a good time! The environment is awesome and the endless motivation is amazing. The coaches are there to always guide you so you will never feel alone. Now that I'm 52 pounds lighter, I feel so much better about myself, I feel so much happier and my energy level is so much higher. Joining FitCampLA and taking the 15in5 Transformation Challenge showed me that nothing is impossible. Joining fit camp LA is the best decision I have ever made and has definitely changed my life. I recommend joining FitCampLA and taking the 15in5 challenge to anyone who wants to take the next step and achieve life-changing results just like I did. By showing up and Following The Game Plan, you can accomplish 15lbs. and many more!"
So, there you have it. You don't have to take our word for it… Go by what REAL Super Champs have achieved and express about how they feel being a part of FitCampLA. Whether you want to lose 15lbs., 35 lbs., 52 lbs., 60 lbs. or more, FitCampLA is THEE place to accomplish it. With the proper guidance and accountability from the coaches, the support from fellow FitCampLA Super Champs and nutrition plans tailored to everyone's individual needs, you'll have the ultimate tried & true recipe for UNLIMITED MOTIVATION, SUCCESS and RESULTS! Your transformation awaits you.
Your Transformation Experts,
Jonathan & Eric