When most people make the decision to get fit, they hit the gym with the hope that the workout routine that they've picked out will get them into great shape fast. But without the help of a personal trainer or someone guiding you through your workouts, it's easy to make rookie mistakes.
Some gym slip-ups are more serious than others and may do more than just hinder your progress, they could cause injuries that make reaching your fitness goals that much harder. So be sure to avoid these six mistakes that make your gym session less effective.
1. Not Warming Up Your Muscles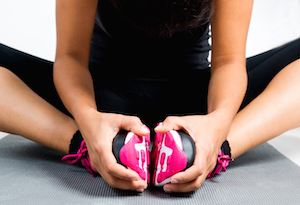 One mistake right off the bat that could ruin all your hard work is not allowing yourself enough time to warm up your muscles. It's important to incorporate this step into your workout because warming up helps your body deliver oxygen to muscles more efficiently, increases blood flow to the heart, lubricates your joints, and gives you the stamina you need for a tough workout.
Taking 5 to 10 minutes to stretch and get your blood pumping is a small price to pay for awesome results. Try doing exercises that increase your range of motion like jumping jacks, lunges, push ups, and body weight squats.
2. Not Lifting Weights
If your goal is to get lean and mean, then there's no getting around weight training. It's simply the best and most effective way to build muscle (and burn fat). Some people are afraid to give weight lifting a try because they think they might get too bulky, but unless you plan on spending half your day at the gym– then you have nothing to worry about. Weight training is great for improving strength and should be a part of any fat-loss program.
3. Poor Form and Posture
Poor form and posture are both responsible for causing injuries in beginners, especially when they're going it alone without the help of a personal trainer. Speeding through movements and jerking your body around are certainly things you should never be caught doing, but so are moves like swinging a weight around, pulling on your neck when performing sit-ups/crunches, bending too far forward during a squat, and not using your full range of motion.
4. Being Distracted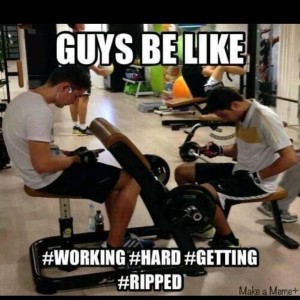 It's tough to make it through an effective workout when you're distracted. Exercise is supposed to help you take your mind off the things that may be bothering you in your day to day, and it does just that when you allow it. Having lengthy discussions with other gym goers and checking your phone in between sets seems harmless, but losing focus while working out is hard to bounce back from and will more than likely cause you to lose the motivation you need to finish strong.
5. Not Hydrating Enough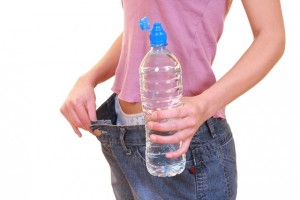 Not drinking enough water during a workout can lead to dehydration– which occurs when you lose more fluid (in this case, sweat) than you take in (water). Mild and moderate dehydration can be treated at home with sports drinks or an oral rehydration solution, but severe dehydration can be life-threatening.
Try to drink a good 16 oz. of water before a workout (don't drink it too fast), another after your workout, and be sure to take a few sips during the workout too to stay optimal. Also, eat a protein rich snack after your workout to help your muscles recover.
6. Sticking To The Same Routine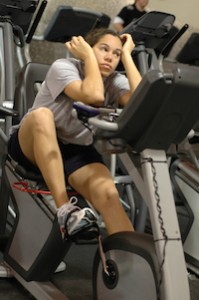 Switching up your workout is just as important as adding in weight training, especially if you're looking to lose weight. Doing the same exercises over and over cause you to plateau making it difficult to see those results you're after. Plus, going through the motions of the same workout just gets boring.
So to get the most of your workout, pay attention to these six mistakes and try to avoid them at all costs!