FitcampLA Success Stories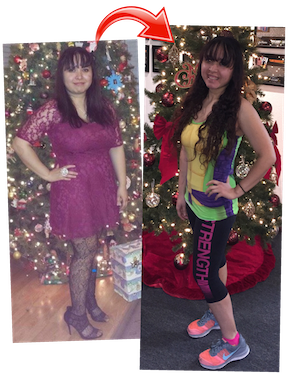 I was heading down the wrong path in my life. I was unhealthy and overweight. I was fitting into a size large and even a size extra large. I was getting bigger. I didn't like what I was seeing in the mirror.
FitCampLA help me turn things around completely and head in the right direction. With the support of the FitCampLA family and the amazing trainers, I was able to achieve my goal. I am now healthier and stronger! I lost 35 pounds and went to a size 13 to a size 7!!
I never thought I will ever be a size 7! It took hard work and dedication but at the end it was all worth it. I have more confidence to go shopping and now I fit into a size extra small. I love how my body looks in the mirror and everyday I'm getting more and more toned up. I'm seeing muscles that I didn't know I had. I can't wait to see how Much more I can achieve!
Thank you FitCampLA
Brenda Galvan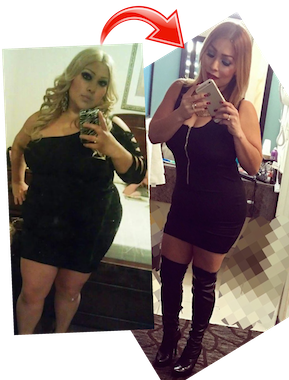 I must say FitCampLA has been the best investment I've ever made in my weight loss Journey. I LOST A HUNDRED POUNDS!!!
When I first joined, I wasn't too sure if it would work for me because I had I tried so many different things to lose weight and tone my body before joining… Well now I can proudly say that I'm glad I did join this amazing program because it sure has paid off and I feel so much better about myself — especially when people come up to me and tell me, "Dang girl, you look great!" and how they see me as a motivation for their own weight loss journey.
Big THANK YOU to my amazing coaches Jonathan, Justin and Val for pushing me on my daily workouts because without them, all this weight loss and toning my body would not have been possible.
Thank you FitCampLA!!!
Ada Torres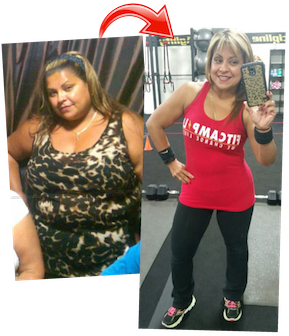 ONCE YOU SEE RESULTS IT BECOMES AN ADDITCTION!!
Let me start off by saying FitCampLA has changed my life! Gaining weight after two kids and never losing the weight was very difficult and depressing. I was going to the gym doing Zumba, but I was not seeing results. A friend of mine was posting pictures of FitCampLA and her workouts, which looked very intriguing, challenging and FUN — and I needed that.
I decided to get in on the 15 in 5 challenge; this is all it took for me to get hooked! This was the best decision I could have made! I have lost a total of 100 pounds! When I started FitCampLA, I could not even do a push up much less a burpee… but now I say "bring it!" I am seeing definition in my arms, I feel muscle in my legs, and the booty is poppin'!! The coaches are AMAZING — always motivating you to keep going when you want to give up! The atmosphere is always positive and they keep it real! I am ecstatic with the results I am getting and cant complain about all the compliments either!!
Thanks FitCampLA you guys are the best!!
Marie Macias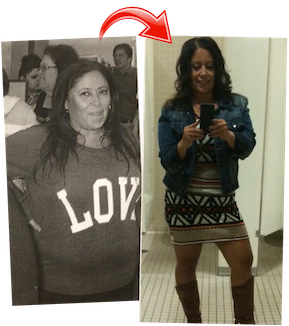 Where do I begin?
35 lbs. ago I was at my heaviest. I felt horrible and knew I had to do something. So I started my fitness journey. I would diet, jog, hike… Even tried Zumba but as time passed, I got bored with all of that. I would make excuses not to work out. The simple fact was I got LAZY. I needed something more — something that would motivate me. Then I found FitCampLA.
I remember the 1st day my daughter and I went to a session… I was scared out of my mind. It this something I could do at my age?? Would people laugh?? Would I be ignored?? It was the total opposite!! The coaches and the people that were there were so friendly. Everyone would take the time to give a high 5 and coaches would stop next to me and explain a workout if I wasn't doing it right.
My daughter and I went home that night and we knew that this is something we need to stick to 🙂 I could never get bored at FitCampLA. The motivation, the environment, the energy is like nothing I ever experienced before. I know the coaches here want me to succeed and they continue to give me that support and push I need to get me where I want to be. I still have goals and I know I will get there but not without my FitCampLA Family. I've never felt better — stronger and healthier since I joined FitCampLA. My coaches, the staff and my fellow fitness partners are the greatest people. We all have a story and we all share the fitness journey together 🙂 .
Thank you FitCampLA!!! I'm soooo happy to be here. The BEST decision ever! 🙂
Cynthia Olivas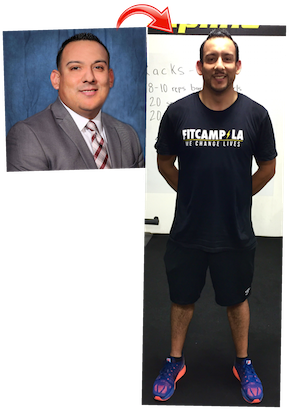 I have been a member of FitCampLA for just about nine months and in those nine months I've lost 32 pounds already!
Just to say a little bit about myself… Before FitCampLA I was one to have never EVER visited the gym before, I didn't know what a gym membership was, I didn't know what any type of workout or exercise was… So the best part about FitCampLA for me has been the very welcoming environment and the fact that you don't feel intimidated coming in not knowing what you're doing or not knowing how to workout.
The coaches here are awesome! They lead you every step of the way, they teach you how to do the exercises and then make sure that you are doing the exercises correctly & safely, and that you are getting the most out of every single workout. And that's what keeps us coming back. These last nine months have just been incredible for me and I never want to stop! It's a great atmosphere and a great family to be a part of!
Luis Garcia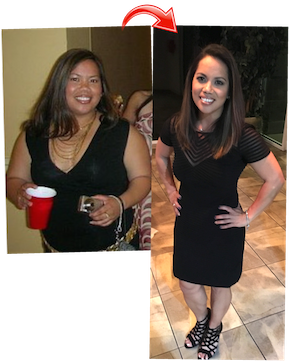 My job as a teacher has many advantages to keeping me young. One disadvantage of being a teacher? THE FOOD. Working in a school setting means celebrating every holiday and every achievement with some kind of reward, and for ten year olds, that usually means chocolate, ice cream, or cup cakes! When I first started working out at the gym, I was the heaviest ever, at 156 pounds. At 4'10.5", I was carrying a lot of excess weight that was slowing me down and making me sluggish. I began going to the gym 3-4 times a week and was feeling good but wasn't seeing the results I wanted. The numbers on the scale wouldn't move and my clothes didn't feel any different.
That's when I met Jonathan, the owner FitcampLA. I was no stranger to working with a personal trainer. I had battled with weight loss twice before and had two trainers before. But while the other trainers carried the same title, they did not hold a candle to the type of trainers Jonathan and Eric are.
They don't just tell you what to do, they educate you about your body, your muscles and the workouts you are doing. They care about you, not just as a client, but also as a friend. It was the intense and creative workouts at FitcampLA that motivated me to achieve weight loss goals I've never dreamed of. Even starting at just one class a week, it was enough to catapult me into a new mindset and a new body. Jonathan made me see that fitness is not just temporary but a way of life. Once I surrendered to a healthy diet and workouts that actually helped me build strength and lose inches, I truly saw a huge change. Thank you, FitcampLA!!!
Stephanie Aguon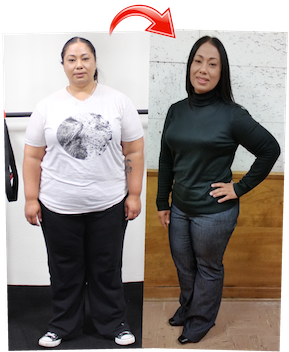 I joined fit camp LA at the end of 2015 and so far I have lost a total of 77 pounds and counting! I won FOUR of their weight-loss challenges and I'm ready for my next one! The coaches here are great, it's such a positive atmosphere — they're motivational and there's never a dull moment. The only thing I regret is that I didn't do it sooner. If I can do it, anyone else can do it too! Thank you FitCampLA!!!!
Angela Solorzano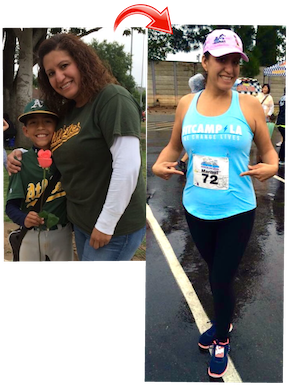 I have never thought or seen myself as a "skinny" girl. Last year, before coming in to FitCampLA I was full gear on the highway of unhealthy eating, depression, low self-esteem, no motivation what so ever, allowing myself to become ill with headaches, stomach aches, even just getting out of bed started to get difficult.
FitCampLA, has been a true life changer for me. I could have gone to any other gym, followed any ordinary routine, or even take "super-fast weight loss pill", but I needed to do something that would not just last one month, or even two. FitcampLA has provided me with the tools I needed to start my healthy life style and continue to come back day after day.
The work-outs are challenging, but not impossible. The atmosphere is nothing less than positive, fun and encouraging — Amazing energy!
You coaches are AWESOME!!! You guys have given me the support needed to get thru the work-out. Walked me thru the process making sure I knew exactly what I was doing and that I was doing it right!
I love how the focus you guys have is on ALL of us! (at least that's the feeling I get every time when I'm here) You have gotten to know my limits, my abilities and help me reach goals that I once thought would never be reached. Gives the feel of that one-one personal trainer!!
My results speak for themselves. Currently down 50lbs. Went from a tight size 16 to a size 8 (almost a size 6 right now!)!! As I lost the weight, I gained confidence, self-esteem, and energy. Who knew there WAS a "skinny" — scratch that… — a "FIT" girl under all that weight this whole time!
One of my biggest rewards was when my 10 yr son hugged me and said "mom I can wrap my arms around you all the way now!
Maribel Garcia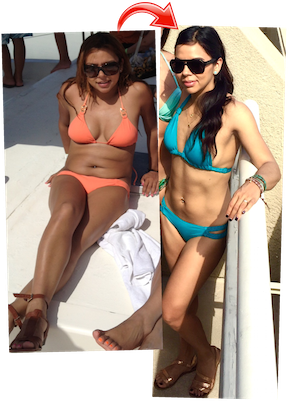 My fitness journey started about a year and a half ago when reality smacked me in the face. I was 26 years old and had reached a point that I never been to before-unzipping my pants after a meal-­this was not the business. Sounds familiar? Yea well, my entire life I had been petite and never had to worry about working out or eating right. I was blessed!!
Although I was always "skinny" I was not by any means healthy. I knew this because of the migraines that haunted me every other week. In a matter of a year I had gained almost 30lbs, now this may not seem like a lot to some people but I have to remind you I am only 5'3; this was not flattering on me. The final straw was drawn at the manicure salon when my nail lady told me, "You getting fat!" 🙁 I left the salon crying and immediately text my longtime friend John!
He had just started his own business (Fitcamp) and I knew that with his wealth of knowledge, Fitcamp would be the answer to my weight problem. Why FitcampLA over every other gym and "fitness classes" out there? It's simple they are the best, they give you all the support and tools that a person needs to accomplish their goals. You may not want to hear what they have to say about your bad eating and drinking habits but they will keep you in line if you are open minded and willing to take the criticism.
After a year and half, and aCer trial and error with my way of living (eating right is not a diet but a way of living for me) I am in the best shape of my life. I have lost most of the weight I gained but most important of all I lost BODY PERCENT FAT. I may not weight what I weighed when I was at my thinnest, but I have more muscle definition. This to me is worth more than a number on a scale.
Jonathan you are the amazing and I couldn't be happier for your success!
Alicia Garcia
p.s. I no longer have migraines… 🙂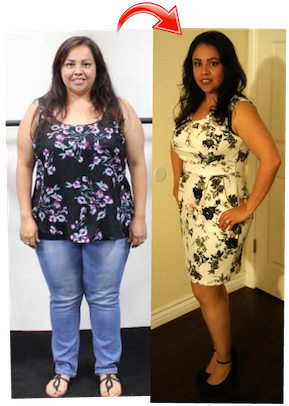 Joining FitCampLA was the best decision I have ever made!! I am currently down over 55 pounds and counting and I'm in the best shape of my life! 55 pounds! I still almost can't believe it! The Coaches are great! They are friendly, encouraging, and are always available if you have any questions or concerns! The environment is fun, full of energy and the sessions are always fresh, new and FUN! There are always new workouts that are never boring and there's never a dull moment!
I have accomplished things physically that I never thought I would and would not have been possible without the Coaches and amazing program at FitCampLA!!
I am happier and the healthiest that I have ever been! FitCampLA really does change lives!!!
Carol Gutierrez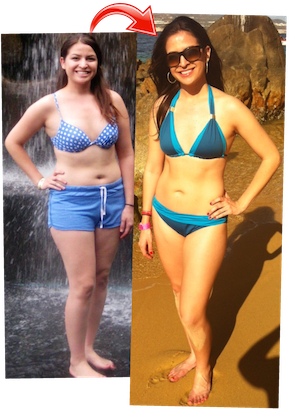 Joining FitCamp LA has been one of the best investments that I have ever done for myself and my body. I never got the results at the gym that I have gotten at FitCampLA. I never knew it was possible! I now learned and understand what it is to live the fit lifestyle and challenging your body to get the results you want.
Special thanks to FitCampLA and coaches and my sister in law who introduced me to it!
Daisy Mejia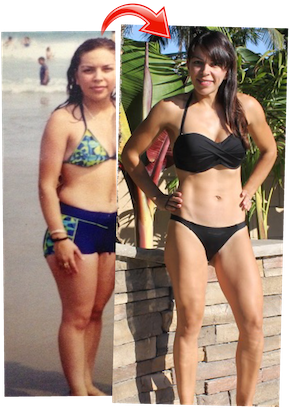 Loving FitCampLA!!!! I cannot say enough good things about the program… Not only is FitCampLA affordable but it's an amazing value for your money! The amount of support you get from the savvy coaches, who are qualified trainers, and the amazing energy from the group atmosphere far outweighs any other type of workout I've experienced. The variety of exercises and the quickness we move through them keeps me from ever getting bored. Plus, the coaches challenge you in a way that gets you the results you want without overdoing it. I'm always thrilled and amazed that I make it through a full hour of intense exercise and I'm really loving the results-­‐-­‐-­‐less body fat and more tone!
Thank you FitCampLA!
Liz Mejia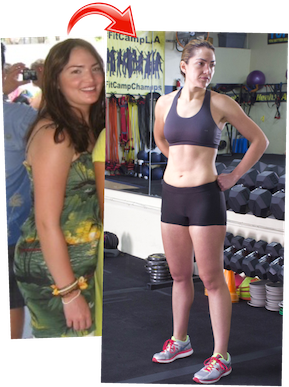 I started coming to FitCampLA over 20 pounds ago. I always wanted to lose weight so I read magazines about quick fixes, fad diets, and how to lose 5lbs in 3 days.. And guess what… It didn't work!!
My mind was set that I had to accept my body the way it was and that was it! My eating and alcohol drinking habits never changed but I worked out at the gym so I thought I was ok. Wrong again!!! How I actually lost weigt — well I began to step it up and started making time to come to FitCampLA at least 4 times a week, took baby steps on cutting back on certain foods and had to cut back on some alcohol too. I began to challenge myself and low and behold, I won!!
FitCampLA has helped me lose weight and build definition but most importantly, it has helped me build discipline and self-confidence again. The coaches have been of utmost support and they have never given up on me. I am the same person in a different body and I'm loving it!!!
Carla Flores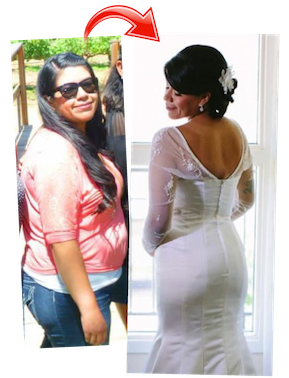 In April I joined fitcampla because I wanted one good picture in my wedding dress that I could look at in my old age. I had 5 months to do it. Day in and Day out, all the coaches kept pushing and gave me an unbelievable amount of support. After 5 months I dropped 38 pounds! And it was A STRUGGLE being a mom of 2 young kids. But they gave me the motivation to keep going, especially on days when they felt the hardest.
I couldn't have done it with out Coach Justin Torres, coach Valerie Rodriguez, and Jonathan Coppell. I didn't just lose the weight but got an entire different outlook on life! To work harder, live longer. Nothing else worked till I met the team at FitCampLA. My only regret was not joining sooner!
Natali Trinidad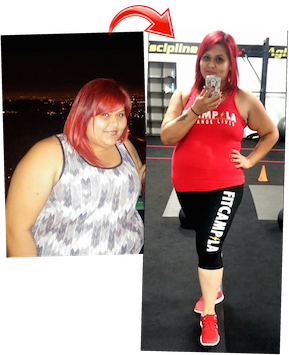 What an incredible year this has been! I started at FitCampLA with their 15in5 Challenge hoping I would be able to lose the 15 lbs, I never imagined that I would actually lose 24 lbs! With these amazing results, of course I stuck with it and in my first six months at FitCampLA, I dropped 80 lbs!! Wow!! I can't even believe it myself sometimes.
The process has been tough, but so much fun! Never in my wildest dreams would I have thought I would enjoy working out (and even miss it when I can't make it) but I absolutely do! I am forever grateful to the amazing Coaches that have had a huge part in my transformation, Valerie Rodriguez, Justin Torres, Stephanie Rodriguez, and of course Jonathan Coppell who created this amazing program.
They motivate and push you to do better because they know you can, and deep down you know you can too!! It is such a great environment for anyone…especially beginners like me because there is no intimidation. All the other "Super Champs" are very friendly and positive, always encouraging each other to keep it up! Not only have I made a lot of new friends, I gained myself my FitCampLA Familia!! Their motto is "We Change Lives" and let me tell you, this is so true! They changed my life, they saved my life; I can't thank FitCampLA and the Coaches enough for what they have done for me! I know I never would've done this without them, I only wish I would've found FitCampLA sooner. I still have a long way to go, but now I know it's doable and I am gonna get there!
Monica Reyna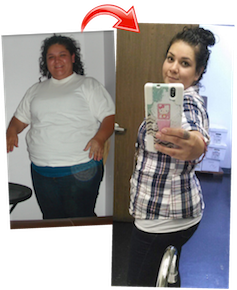 I lost 44 lbs already!
I couldn't believe it… Especially after going hard at other gyms and not seeing any results. I was like screw this. I had almost just given up. But thankfully one day I kept coming across FITCAMPLA constantly like if it was a sign. I told myself to give it a try. The first time I stepped a foot in the door, I was so scared of being judged of how big I was — but man the coaches and members made me feel so comfortable and welcome right off the bat.
The workouts are tough but FUN and it's never the same old routine, which I love. Every day there's something new, fresh and exciting! Now, 44 lbs. lighter, I have so much more energy and strength. I still have a few pounds to go but I know with this awesome team anything can be done. The coaches push you and are motivating & encouraging to get you out of your comfort zone and go hard — even the members support you and are great people to be around. Thank you guys for creating a simple step by step system to see results. THANKS YOU FITCAMPLA!!!!
Angie Garibay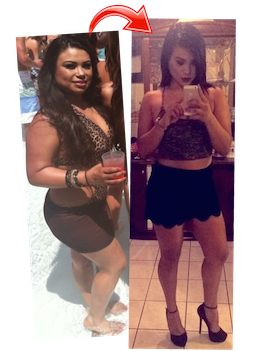 Looking back at my old pictures, I was in a bad place. I had gained over 35lbs after high school and I didn't know how to fix it. Every 3 months I would gain 5lbs and I became my heaviest in 2012 weighting 173. I felt uncomfortable with my body and I let go of my self. Not taking care of my own body feeling overweight and fat with everything I would wear.
In January of 2015 it hit me so hard that I decided to make a change in my life and be committed. I started FitCampLA.
I began eating healthier and working out harder and saw results. My body has changed in so many ways. I have defined muscles and strength I never imagined I could have. I am able to lift, squat, do push-ups, pull ups. — And I want more!
I love how the coaches push me and challenge me everyday to be stronger. I have now lost 25lbs and I'm going for more. Working out at FitCampLA is a kickass workout! It's so fun and addicting. Set goals, get motivated and accomplish your goals because once you see results like I did, believe me, you will be hooked!
Angie Martinez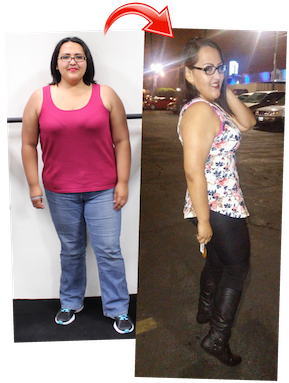 My name is Karina and I started at FitCamp LA with a 5-Week Supercharged Slimdown. I have to say best decision I have ever made. I started at my heaviest 223 lbs. I was without energy and no motivation. I am now down 44 lbs and I feel fantastic and full of energy. This program is worth your health and time and the coaches are fantastic and motivating. I feel stronger and healthier than I did in high school. Thanks to FitCamp LA I will continue to succeed with my weight loss and healthy living. Please take into consideration your health and your well being, because YOU REALLY DO MATTER.
Karina Aranda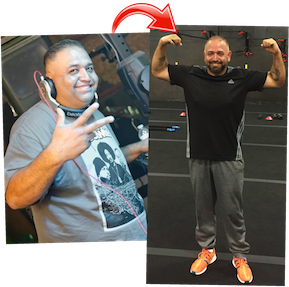 I lost 50 pounds!
Juan Lopez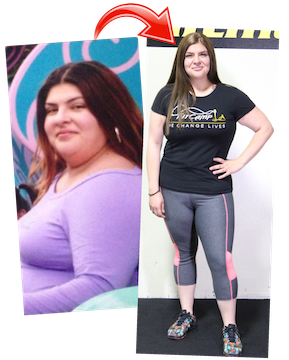 FitCampLA is simply amazing! I still remember the first day I walked into FitCampLA and thought to myself, OMG, Am I going to be able to hang? I had a regular gym membership but never knew what workout to do other than the treadmill and elliptical. At FitCampLA the coaches are there to help you with all the workouts. The coaches keep me on my toes and that's exactly the push I need. I never imagine myself lifting weights or being able to do a push up. I won't lie and say it's easy because it's not but Jonathan really helps me push beyond my limits and become stronger every session! I was able to complete three 5-Week challenges and was down a total of 45lbs but my journey doesn't stop there. FitCampLA provides you with all the tools needed to lose weight but it's up to you to put in the work. Thank you Jonathan Coppell for always giving me the 🙄 Why you bullshi***** look! Because it helped me GET SHIT DONE (GSD)!!! 45 pounds down and counting!!
Emily Ochoa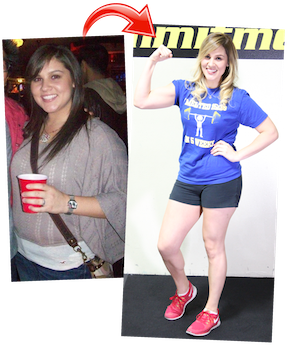 I have lost over 35 pounds here at FitCampLA. And 19 of those 33 pounds were lost in 5 weeks with FitCampLA's 5-Week Supercharged Slimdown! My experience here has been nothing short of amazing. This is honestly the best program I have ever tried for weight loss. Now I have so much more energy and I feel so much stronger! Thank you FitCampLA for all that you do!
Breanna Hoskins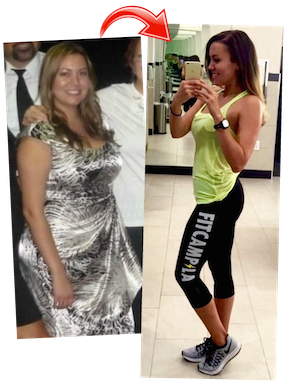 I have always had this constant struggle with my weight but last year I really let myself go. I lack motivation, I have low self-esteem and rarely set goals and stuck to them. I knew I had to make a drastic change. In January I promised myself I would stick to my resolution of getting back into shape and feeling healthy. I decided to start training at FitCampLA because I knew it was a different type of fitness program and much more valuable than just going to the gym or running. Since starting I found myself setting goals and pushing myself harder each session. I feel stronger, more confident and proud that I'm keeping my promise to myself of getting back into shape. It's not easy but it has been working GREAT for me and I'm LOVING THE RESULTS! Down 50 pounds I can't thank FitCampLA enough! Couldn't have done it without the motivation and expertise of FitCampLA.
Jennifer Smith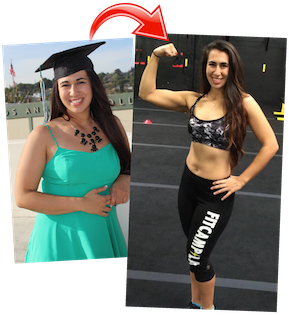 I am incredibly lucky to be a part of the FitCamp LA Family! The coaches, atmosphere, and workouts are like nothing I have experienced. I have been top my fair of gyms and been around a number of "coaches". Never have I experienced the amount of energy, positivity, and commitment that defines FitCamp LA. The workouts quickly become addictive and your mentality about fitness changes almost overnight. It does not feel like an obligation or a job when you are surrounded by coaches and members that feel like family. FitCamp LA has made me toned, healthy, and strong. Not mention I'm down over 30 pounds! My mind and body have never before been so fired up to keep pushing myself. I find myself having to continually reevaluate my fitness goals because I keep exceeding my own expectations. This team of amazing coaches help to transform you into the best version of yourself. The FitCamp LA team will stop at nothing to make sure every member that walks through that door is set up for success and leaves feeling motivated and confident!!
Stephanie Garcia