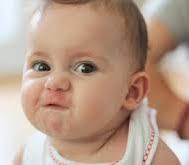 WORST. DAY. EVER. Let me tell ya… So, you have cute/cool gym shoes, right? You know, the ones that just look fast and match really well with a lot of your other gym gear. Apart from their looks, focus on the feel (for real) and ask yourself if they're what your feet really NEED for they type of training that you're doing. I've got some recommendations for you at the bottom of this article but first let me dive into it with something from last week that should paint a clear picture and example as to why I recommend things the way I do.
Last week I got a lot of compliments on these shoes I was wearing… Bright and sporty looking, they definitely catch eyes. But were they really suited for me being on my feet for a day and coaching 4 sessions back to back?? (which includes jumping, running, agile footwork and swift movements, etc.) The crazy bright neon shoes pictured to the side here were solely created for the purpose of weight lifting. That's it. Nothing else. A super flat and rigid sole with no squish/cushion or softness at all, a slightly elevated heel and two forefoot straps to lock your feet in so there's great maximum support with no movement inside the shoe during heavy lifts.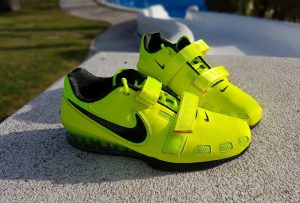 I personally only use them for squats — and only on squat days where I plan to squat over 225 and up into the 300's… No I'm definitely not a powerlifter or anything like that but when I have 300 pounds on my back, one of the last things I'd want is movement and give inside (and coming from) my shoes.
So, back to the day day last week when I wore these shoes to camp and coached all the sessions wearing them —- WORST DAY EVER (for my feet and up into my ankles and calves). I got to FitCampLA early in the afternoon to get some heavy squatting in before I setup for the sessions for that evening.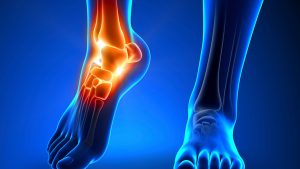 It went well except for one thing — I FORGOT MY OTHER PAIR OF SHOES. (which are much more suitable comfortable for the tasks associated with coaching moving around on my feet for numerous hours.) By the end of the last session, my feet were DONE. As soon as the last client left I took those damn things off and drove home with no shoes. Feet and ankles were sore the next day too… Ughhh.
So what's the point of this story???
Choosing the right shoes based on YOUR feet and the type of training you're doing while keeping characteristics besides "how cute they look" as top priorities is more important than it may seem. Are you wearing the right shoes for your training sessions and workouts? Here are a few things below to consider when choosing the right shoes for your type of training.
1. PURPOSE / TYPE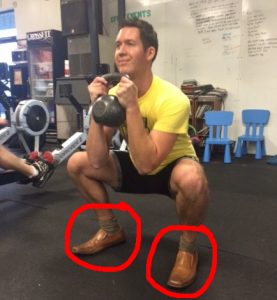 If your training is pretty much all weight lifting and powerlifting, you'd definitely want to browse through shoes that are made specifically for that. Doing rock climbing? Browse through rock climbing shoes. Basketball? — You probably wont be in the dress shoes section! 🙂 Sports-specific training that involves short bursts of sprinting (5 – 50 yards) and explosive jumping (maybe trying to catch/block a ball or things of that sort), a "cross-trainer" would suit you well.
What if your training is like what we do here at FitCampLA which is geared for optimal fat burning, weight loss & muscle toning/definition and involves a variety of aspects like strength training & weightlifting, running (1/2 mile – a few miles), ​agility & footwork, and bodyweight training and balance/stability work as well? (Yeah we love to keep it feeling new, fun, fresh and exciting while never letting it feel like the same old boring gym routine!) For FitCampLA I recommend a nicely cushioned and supportive RUNNING SHOE.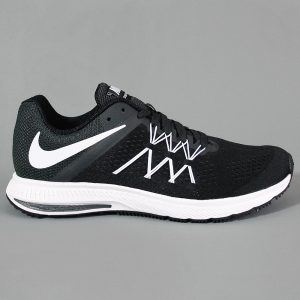 Cushioned meaning when you step into them, you can really feel some absorption and cushion with each step and a little bounce when you push off each step. Supportive meaning a shoe thats still hugs your foot well support-&-stability-wise. Here's a picture of the shoe I use… Pretty plain looking but a holy heckuva-lotta comfort, amazing cushion and great bounce/response! (Plus I got them for less than 50 bucks!)
2. COMFORT IS KING (& QUEEN!)
I understand that we don't want a completely hideous or boring looking shoe but your next priority after choosing the type of shoe based on your training, comfort should be right up there too. Lets say you've got a shoe that's specific to the type of training you're doing, cushions and supportive but something isn't quite right… Maybe it's got a weird lump inside somewhere that feels quite odd (but it's such a cute shoe!). Maybe it feels rather heavy (but it's such a cute shoe!)​. Maybe it's too tight in a certain area or has too much space or movement in a certain area. MAYBE IT JUST DOESN'T FEEL QUITE RIGHT (but it's such a cute shoe!)​. Find the shoe that feels the MOST COMFORTABLE. Walk around in it a little bit and take some steps to the sides to make sure they're nice n' comfy for your feet.
3. LOOKS / CUTENESS / COOLNESS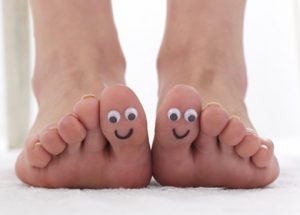 Once you have points one and two (above) narrowed down and squared away, then it is absolutely mandatory to choose the cutest and coolest looking color scheme!!! 🙂 Hah!!!
Ok, so the moral of the story / article in a nutshell / long story short is: Happy feet will equate to reduced aches & pains and happy workout experience for you with regard to the type training you're doing. Choose your shoes based on the type pf training you're doing, the comfort & fit and leave the looks and cuteness factor for last.
Have an awesome day and take care of those feet!
Committed to your success,
~Coach Jonathan